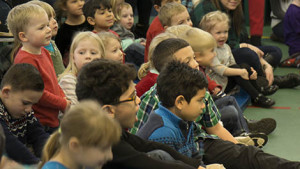 Food, family, and fun was the order of the day at the Annual Holiday Party for the staff of HSMC and its client companies: The Evergreen Center, Criterion Child Enrichment, Beacon ABA Services and Beacon Services of Connecticut!
There were plenty of treats on hand for those who attended this year's event, from sandwiches and salads to a wide range of holiday desserts. Parents and children alike lined up in enjoyment to fill their plates and tummies in advance of the merriment to come.
On behalf of all of the companies, Brian Liu-Constant, Chief Operating Officer of The Evergreen Center and hosting site for the party, started the festivities with words of appreciation to all staff members and extended a few special birthday wishes to some of the children in attendance.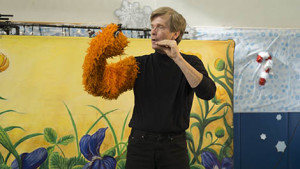 The Tanglewood Marionettes then took the stage delighting the children with a brief orientation to different kinds of puppets, including a hand puppet that did not want to cooperate and a large orange mouth puppet that had a tendency to bite on the fingers of the puppeteer!
Once the show got underway the kids were mesmerized by the antics of each of the marionettes as they danced, skipped, crawled and flew across the stage to the delight of the crowd.
The biggest reaction was from an incredibly articulate spider marionette that traversed through the crowd eliciting laughs and giggles from everyone it passed.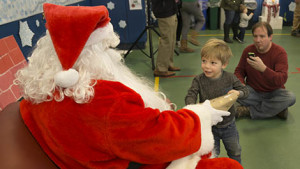 Then came the main event…Santa's arrival!
With a booming "HO HO HO" Santa Claus made his way through the building and into the gymnasium where awaiting children greeted him with cheers of glee and excitement.
Santa wouldn't visit without presents, would he? Of course not! Taking a seat in a large comfy chair, Santa handed out gifts to all of the good boys and girls calling each one up by name to receive a special gift from The Big Man himself!
At the end of the day, there were opportunities to take a photo with the jolly old elf before families turned towards home after a magical, and fantastic day.